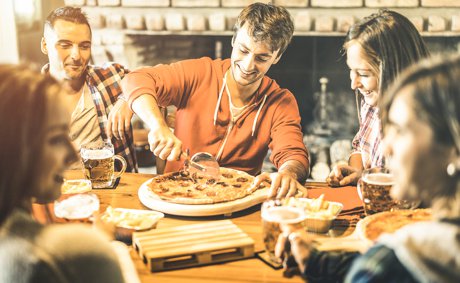 When the clock strikes time for dinner, folks from Fishers property know what to do. Rockstone Pizza Pub packs them in with a menu catering to a variety of tastes. From pizza to pasta, salads to sandwiches there's something for everyone.
A locally owned establishment, Rockstone Pizza Pub works hard to ensure quality foods that are expertly prepared make it to the table. Most ingredients are either locally sourced or imported direct from Italy. Tantalizing aromas come from their stone wood burning oven as home made pizza pies are baked up from scratch. Pasta dishes ooze with deliciousness tasting as if they come directly from the mother country. Creatively mixed salads are refreshing to the palate. Regulars are often in the joint. It's easy to mix it up a bit by selecting one of five weekly specials. A range of burgers, pizza pies and signature dishes are highlighted each week. Desserts are decadent and include pizza a smore, tres leche and cookie skillet a la mode.
Gather Round to Celebrate Near Fishers Homes
The gang likes to gather on this Fishers property to celebrate both the big and little things. Two dozen quality beers rotate on the tap, and fine wines fill glasses perfect for celebrating. Beer flights are great for sharing or for those who just aren't sure which brew to select. The Rockstone Banquet room is available with no rental fee for larger parties seating up to 50 guests at a time. Locals utilize the space for birthday parties, anniversaries and corporate events. Call 317.288.9761 for more information.
Be among the first to hear about menu changes, earn free pizza and be kept up to date on beer rotations by becoming a Rockstone Loyalty Member. Join the eclub here. The pizzeria is open six days a week. Mondays are closed to the public for private events. Located at 11501 Allisonville Road, the restaurant is conveniently close to Fishers homes.